Bisque socket head, blue glass paperweight inset eyes, brown painted lashes, brushstroked and feathered brows, accented nostrils, open mouth, four porcelain teeth, impressed dimples at lip corners, well defined chin, blonde mohair wig, mohair wig, French composition and wooden fully-jointed lady body.
Condition: generally excellent. Marks: SFBJ 238 Paris 4 (doll)
19" (48 cm) tall
SFBJ, circa 1914, , the doll was costumed in designs from the Parisian couturiere Jeanne Victorine Margaine-Lacroix at that time, , as presented in the original Paris and New York exhibitions of costumed dolls which featured both the exceptional Albert Marque doll and this character model of 238. This particular example represents a Russian peasant woman in traditional costume ,featuring a green cotton dress with embroidery and hand made lace.
An original underwear and vontage leather shoes.
More background about the doll is cited in an article "The Artful Dolls of Margaine-Lacroix" by Samy Odin in Antique Doll Collector, March 2013. All original doll in extremely rare well-preserved original condition and costume, and with especially fine quality of bisque and painting. Very rare and all-original model from the original Margaine-Lacroix exhibition.

I DO A LAYAWAY.
Please email me if you have any questions or need more photos.
Thanks for your visit to Respectfulbear doll shop.


Dimensions:

Reserved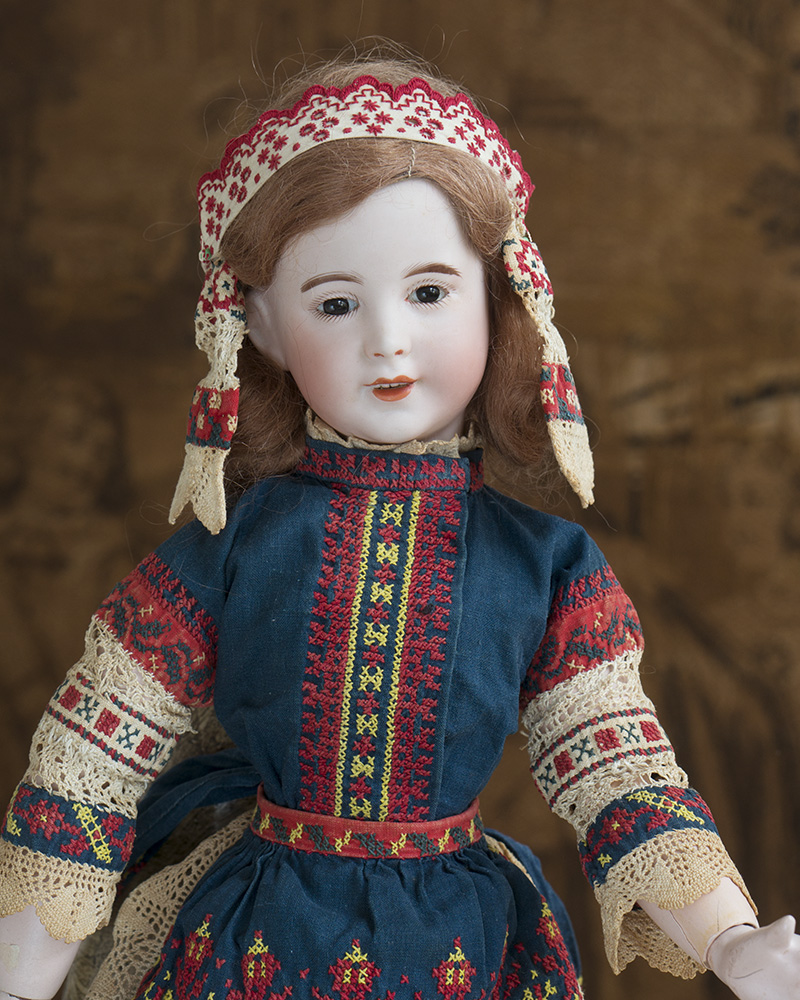 Reserved


Here
you can subscribe to new items of my shop.
© Respectfulbear.com, 2006 - 2017

antique dolls, vintage doll, antique doll clothing, french dolls, german dolls, Jumeau, porcelain dolls, bisque dolls