Wonderful antique french original set of underwears for bebe doll about 25-26" tall (62-66 cm).
The set consist of 5 pieces: the chemise, pantaloon. petticoat and silk patterned corset.
All underwears hand stitched!!

1/ A very beautiful antique white cotton chemise closure at the shoulders with pearl buttons, decorated with lace and blue fine muslin trim, Measures 15" (38 cm) length, 18" (46 cm) chest.
2/ A very full antique white cotton petticoat has blue muslin flounce with lace edging, closure at the back with pearl button. Measures 10 1/2" (27 cm) length, 14 1/2" (37 cm) waist.
3/ Antique white cotton pantaloon decorated with lace and blue fine muslin trim, closure at the waist with p[earl buttons, measures 14" (36 cm) waist, 9" (23 cm) length.
4/ Cream silk sateen patterned bonned-corset has inset vertical bonne- support, shaped waist and bosom, lace borders, brass lacking eyelets/ Measures 14" (36 cm) waist, 6" (16 cm) height.
5/Antique flowers's diadem and old paris store card with children's picture.

All items in very good condition to age, in original blue store box.
Measures of the box 14" (37cm) x 6" (15 cm) x 2" (5 cm)

France, Paris, c.1890.

I DO A LAYAWAY (max. 3 months for this item)
Please email me if you have any questions or need more photos.
Thanks for your visit to Respectfulbear doll shop.

Dimensions:

Reserved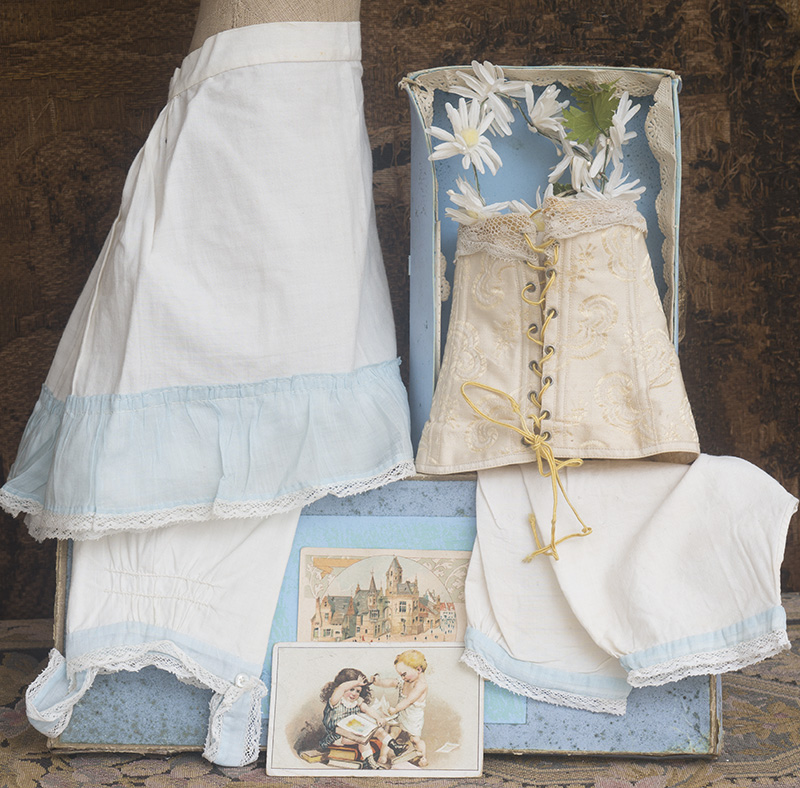 Reserved


Here
you can subscribe to new items of my shop.
© Respectfulbear.com, 2006 - 2018

antique dolls, vintage doll, antique doll clothing, french dolls, german dolls, Jumeau, porcelain dolls, bisque dolls