Bisque socket head with, blue glass paperweight inset eyes with luminous depth, dark painted lashes and eyeliner, brush-stroked and multi-feathered brows, accented nostrils and eye corners, closed mouth with defined space between the shaded and outlined lips, pierced ears, dimpled chin, vintage blonde mohair wig over cork pate, French composition and wooden fully jointed body.
An exceptionally pretty French bebe with unusual expression, wearing fully original Jumeau aqua dress of and silk bonnet, undergarments, stockings, leather shoes (one sole is missing).

17" (44 cm) tall, size 7.
Marks: D. and artist check marks, 7 (head).
Jumeau SGDG Depose (body)
Jumeau, circa 1890.

The model's marking commemorated Jumeau's long-time loyal employee Douillet.

Condition:
very good condition to age, her bisque free of hairline, restoration, cracks and other damages.
Very-very tiny factory rib on the bridge of nose. This is almost invisible on the photos, but I made large picture (the last photo).
Her body in good condition, some normal wear, with original painting.

I DO A LAYAWAY.
Please email me if you have any questions or need more photos.
Thanks for your visit to Respectfulbear doll shop.

Dimensions:

Sold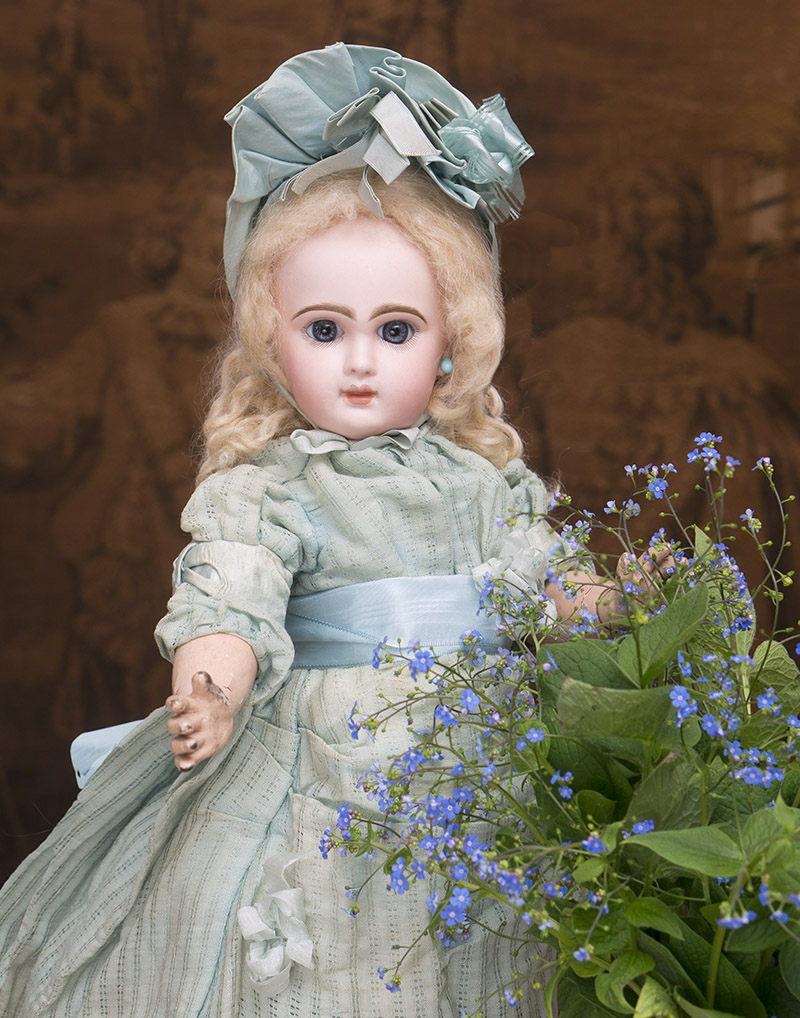 Sold


Here
you can subscribe to new items of my shop.
© Respectfulbear.com, 2006 - 2017

antique dolls, vintage doll, antique doll clothing, french dolls, german dolls, Jumeau, porcelain dolls, bisque dolls