An especially beautiful model of the firm's smiling poupee has choicest bisque and artistic painting, original head and shoulderplate, compelling expression.
Bisque swivel head on kid-edged bisque shoulderplate, almond shaped blue glass enamel inset eyes with darker blue outer rims, dark eyeliner encircles the sockets, painted short curly lashes, arched feathered brows, accented eye corners and nostrils, closed mouth with full lips posed in enigmatic smile, accent lines enhance the softly shaded lips, pierced ears, blonde mohair wig over cork pate, original Bru kid fashion body with gusset jointing, stitched and separated fingers, very fine antique i vory silk wedding gown and wax bunch of flowers, original undergarments, leather boots with heels.

Condition: generally excellent.

17" (44 cm) tall.
Marks: Marks: F (head) G (shoulderplate).
From the letter series of Leon Casimir Bru.

Leon Casimir Bru, the model, known as the "smiling Bru", was deposed by him in 1872, possibly inspired by the beloved Empress Eugenie who had fled England with her husband Napoleon III in 1870.
Very beautiful portrait poupee with finest bisque and painting, antique costume!

I DO A LAYAWAY (max. 12 months)
Please email me if you have any questions or need more photos.
Thanks for your visit to Respectfulbear doll shop!



Dimensions:

Reserved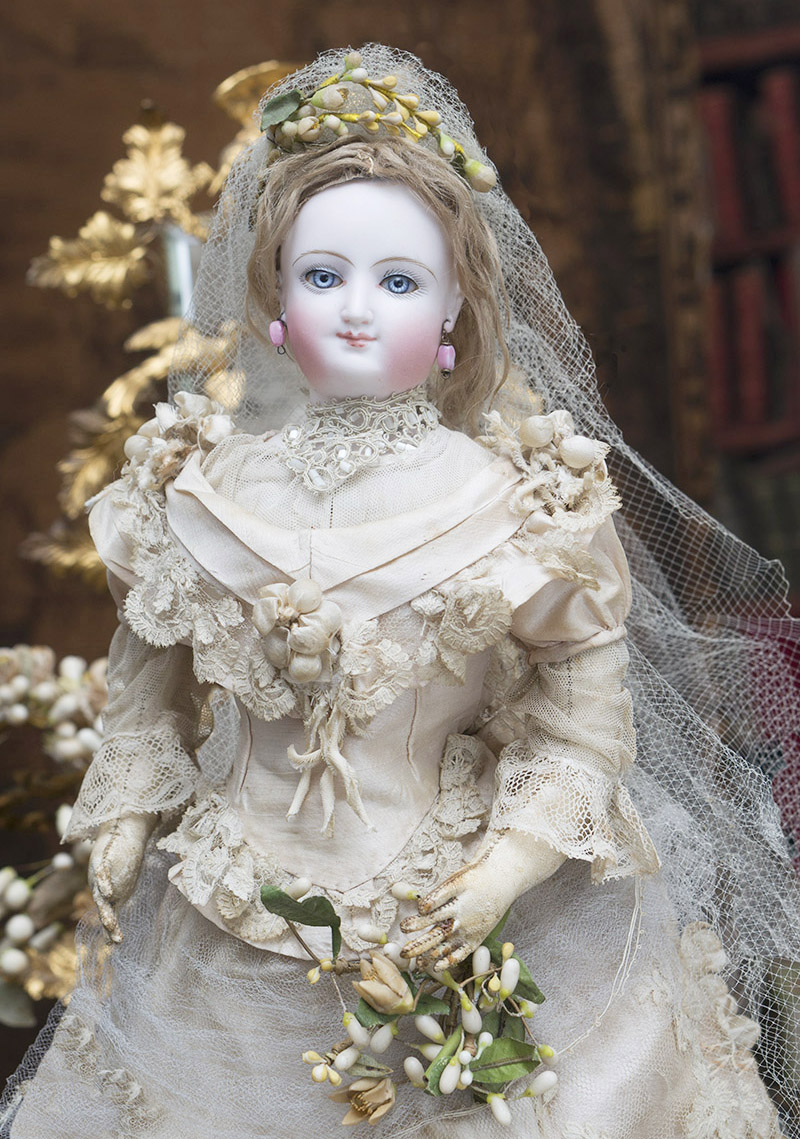 Reserved


Here
you can subscribe to new items of my shop.
© Respectfulbear.com, 2006 - 2017

antique dolls, vintage doll, antique doll clothing, french dolls, german dolls, Jumeau, porcelain dolls, bisque dolls