Bisque socket head with very full and elongated cheeks, large blue glass paperweight inset eyes, dark eyeliner, painted lashes, brush-stroked and feathered brows, accented eye corners, pointy tip nose with shaded nostrils, closed mouth with outlined lips, impressed dimples at lip corners and chin, pierced ears, blonde mohair wig over cork pate, French composition and wooden fully jointed body.
French bisque "Paris Bebe" by Danel & Cie. Circa 1890. Anatole Danel had been an employee at the Jumeau firm until resigning and forming his own firm which specialized in a bebe that was a near copy of the Jumeau. Jumeau sued and won, limiting the production of Danel & Cie bebes to only two years,and resulting in their rarity today.

Condition: generally excellent.

Marks: Paris-Bebe Tete Depose 7 (red stamp) 7 (incised).

Emile Jumeau, his trademarked model "Paris Bebe" with distinctive facial modeling, circa 1892.
Very fine modeling, quality of bisque and painting of the rare model, original body and body finish, wearing superb original dress with blue BEBE brooch, bonnet, undergarment, antique socks and vintage leather shoes.

18" (46cm) tall.

I DO A LAYAWAY.
Please email me if you have any questions or need more photos.
Thanks for your visit to Respectfulbear doll shop.

Dimensions:

Sold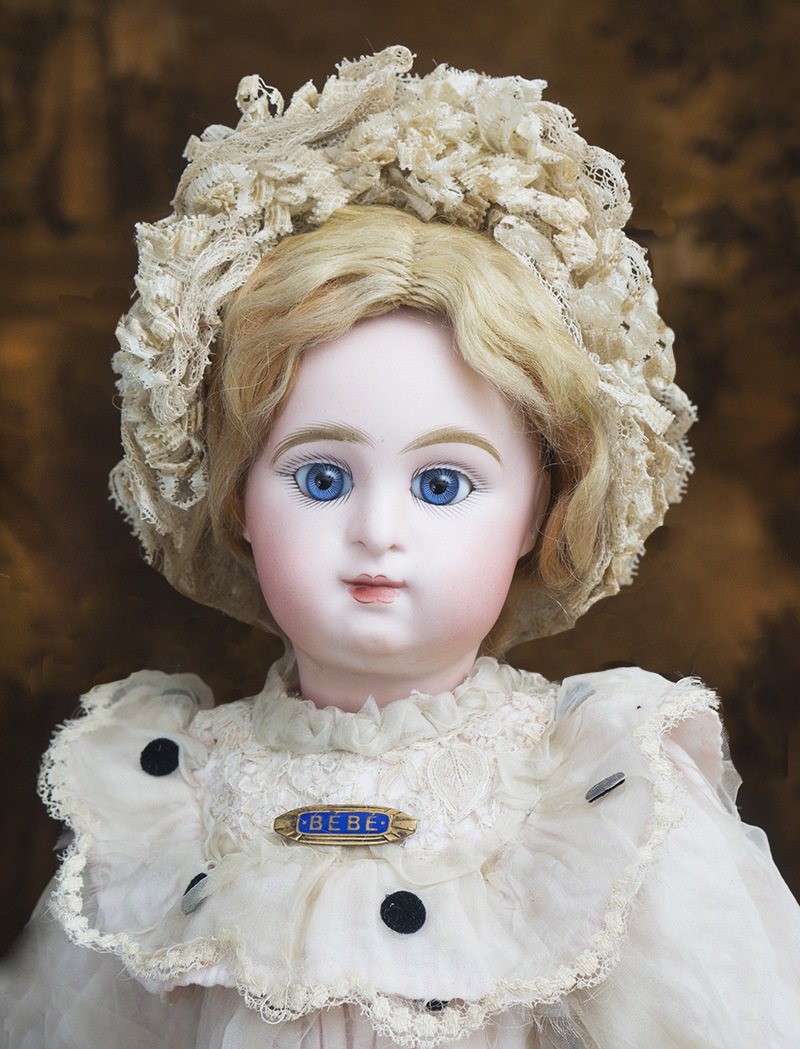 Sold


Here
you can subscribe to new items of my shop.
© Respectfulbear.com, 2006 - 2018

antique dolls, vintage doll, antique doll clothing, french dolls, german dolls, Jumeau, porcelain dolls, bisque dolls