Very beautiful pale bisque enhanced by rich decoration and gorgeous eyes on the large poupee. She has a bisque swivel head on kid-edged bisque shoulder plate,brown glass paperweight inset eyes,dark eyeliner,painted lashes,widely brush-stroked and feathered brows,accented nostrils and eye corners,closed mouth with richly accented lips,pierced ears, human hair over cork pate,French kid poupee body with shapely torso,gusset-jointing of hips,knees,elbows,stitched and separated finger, wearing original fashion silk and Gauze dress,undergarments, vintage leather shoes, hat, and her beautuful accessories including to sale - antique original pink ostrich fan and elegant dagger.

Condition: Excellent! Jer bisque free of hairlone, any damages, restoration, etc.
The body in very good condition, withpout patchs, tears, etc.

Marks: 6 (head and shoulder) F.G. (shoulder). Comments: Gaultier, FRANCE, circa 1870.

23" (58 cm.) tall

I DO A LAYAWAY (MAX. 12 MONTHS!).
Please email me if you have any questions or need more photos.
Thanks for your visit to Respectfulbear doll shop.

Dimensions: .

Reserved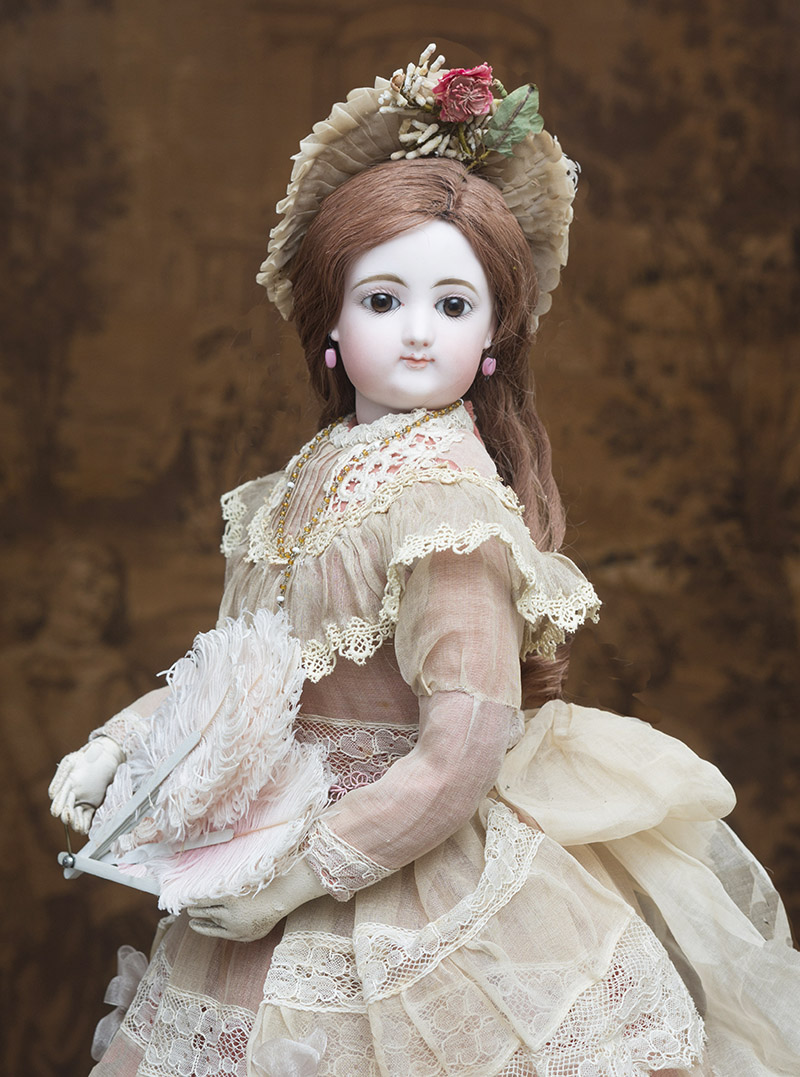 Reserved


Here
you can subscribe to new items of my shop.
© Respectfulbear.com, 2006 - 2017

antique dolls, vintage doll, antique doll clothing, french dolls, german dolls, Jumeau, porcelain dolls, bisque dolls