Wonderful Earliest Model 8 OVER EJ doll by Emile Jumeau, the earliest period model of his signature bebe.
Pressed bisque socket head with full cheeks and chin, blue glass paperweight inset eyes with darker blue outer rims, thick dark eyeliner, painted lashes, mauve blushed eye shadow, brushstroked and feathered brows, accented eye corners, shaded nostrils, closed mouth with shaded and outlined lips, separately-modeled pierced ears with blue glass earrings, blonde mohair wig over cork pate (the wig is not original), French composition and wooden eight loose-ball-jointed body with straight wrists, aqua silk dress with lace trim, undergarments, original leather original marked Jumeau shoes, socks, fancy original bonnet.

Condition: generally excellent.
The delicacy of the bisque and complexion is enhanced by finest subtle blushing of the deeply modeled features, and dramatized by very large deep eyes, original body and body finish

Marked 8 over the EJ (incised small letters at lower back neck) and Jumeau Medaille d'Or Paris (body).
18 1/2" (48 cm) tall.
Emile Jumeau, c.1881.

I DO A LAYAWAY (max. 12 months)!
Please email me if you have any questions.
Thanks for your visit to Respectfulbear doll shop.

Dimensions:

Reserved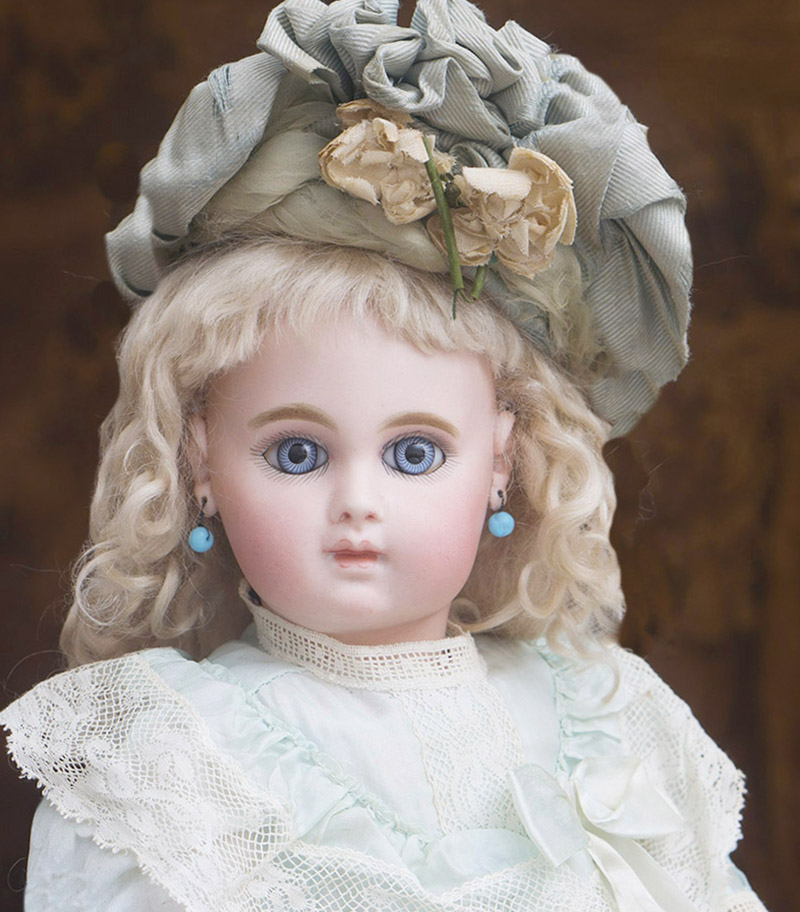 Reserved


Here
you can subscribe to new items of my shop.
© Respectfulbear.com, 2006 - 2018

antique dolls, vintage doll, antique doll clothing, french dolls, german dolls, Jumeau, porcelain dolls, bisque dolls