The bright-eyed little closed mouth doll has captivating expression, bisque socket head with flattened solid dome, blue glass inset eyes with darker blue outer rims, painted nostrils and eye corners, painted lashes, feathered brows, human hair wig, Sonneberg composition and wooden fully-jointed eight-loose-ball-jointed body with straight wrists, original body finish.

Condition: generally excellent.

Sonneberg, circa 1882, by mystery maker, the doll closely resembles the early French portrait bebes whose market it attempted to capture.
The bebe made fo french market and was presented in the luxury Parisian doll shop of Au Nain Bleu. She has an original red presentation box with "Au Nain Bleu" label and wonderful addition accessories - petticoat, blue muslin chemise with feather embroidery, straw hat, handkerchief, old card with bird, beautiful bag, small service.
The doll has original dressm, hat, underwear, vintage socks and leather shoes. undergarments, leather shoes.

I DO A LAYAWAY.
Please email me if you have any questions or need more photos.
Thanks for your visit to Respectfulbear doll shop.

Dimensions:

Sold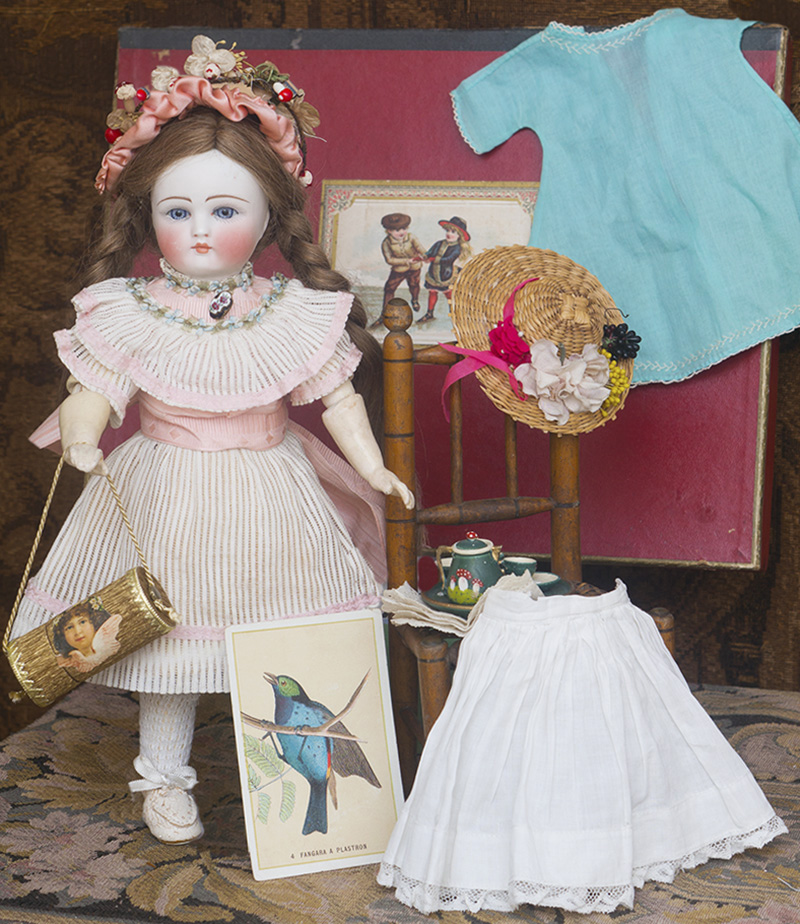 Sold


Here
you can subscribe to new items of my shop.
© Respectfulbear.com, 2006 - 2017

antique dolls, vintage doll, antique doll clothing, french dolls, german dolls, Jumeau, porcelain dolls, bisque dolls