Wonderful all original small size 4 Bebe Jumeau in Mariner costume. She has bisque socket head, brown glass paperweight inset eyes, dark eyeliner, painted lashes, brushstroked brows, accented nostrils, rose-blushed eye shadow, closed mouth, richly-shaded lips with decorative glaze, pierced ears, blonde mohair wig over cork pate, French composition and wooden fully-jointed body.
Petite bebe with charming demeanor, large brown soulful eyes.
The doll wearing original two pieces woolen mariner costume with cap, original cotton underwear (pantaloon, chemise and underskirt), original black leather shoes and socks...

13 1/2" (34cm) tall, small size 4 Jumeau Bebe.
Marks: 4 and artist check mark.
FRANCE, Emile Jumeau, Bebe Reclame, circa 1892, the doll was commissioned by a Paris department store such as Samaritaine whose paper label would have been affixed to the back of head.
Emile Jumeau, circa 1888.

Condition: generally excellent. Her bisque free of hairline, restoration or any damages.

I DO A LAYAWAY
Please email me if you have any questions or need more photos.
Thanks for your visit to Respectfulbear doll shop.

Dimensions:

Reserved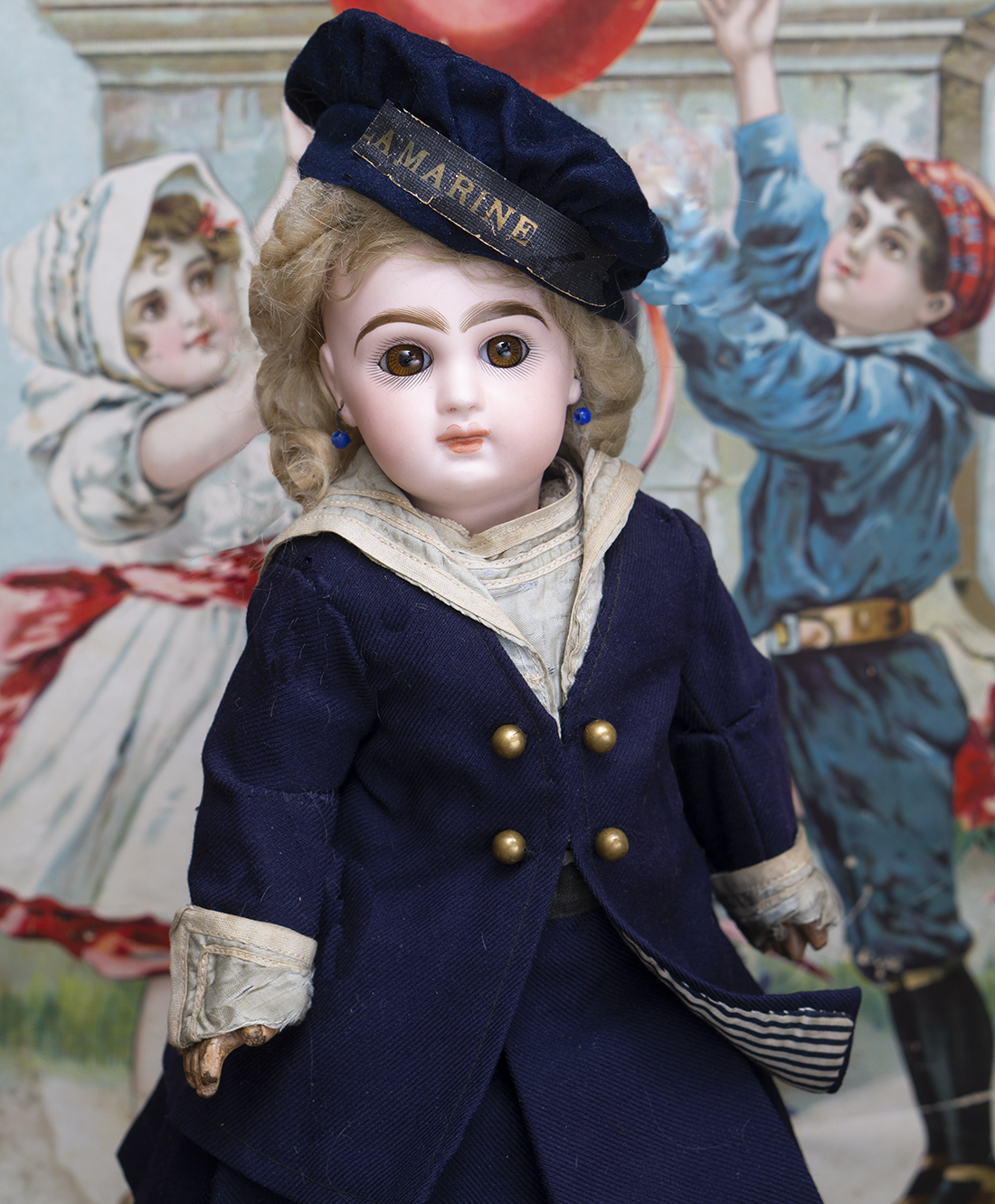 Reserved


Here
you can subscribe to new items of my shop.
© Respectfulbear.com, 2006 - 2021

antique dolls, vintage doll, antique doll clothing, french dolls, german dolls, Jumeau, porcelain dolls, bisque dolls