This is a very early and rare French Fashion Poupee J.L. Bisque shoulderplate with plump face, pale complexion, cobalt blue eyes with dark eyeliner, painted lashes, single-stroke brows, accented nostrils and eye corners, closed mouth, accented pale lips, unpierced ears, brunette human hair over cork pate, original blonde mohair wig over cork pate, French kid fashion body with gusset jointing at elbows, hips and knees, stitched and separated fingers.
She is wearing antique original printed cotton dress, lace bonnet with flowers, original underwear, vintage leather shoes, gold necklace.
She is marked incised J.L. on the front shoulder plate. This very rare marking has not yet been identified (please look "The Encyclopedia of French dolls of Francois Theimer", part 1, page 299).

17 1/2" (44 cm) tall
PARIS, c.1860
CONDITION:
Her head and shoulderplate free of hairline,restoration, and her leather body in very good condition.

This desirable early lady will look stunning in your cabinet, she is very impressive on display. This doll is difficult to find especially in this condition all original.
------------------------------------
I DO A LAYAWAY!
NO ANY SALES TAX!
International shipping cost $65.00.
Payment by PayPal, wire transfer.
If you have any questions please email me to respectfulbear@respectfulbear.com.
Thanks for your visit to Respectfulbear doll shop!




Dimensions:

Reserved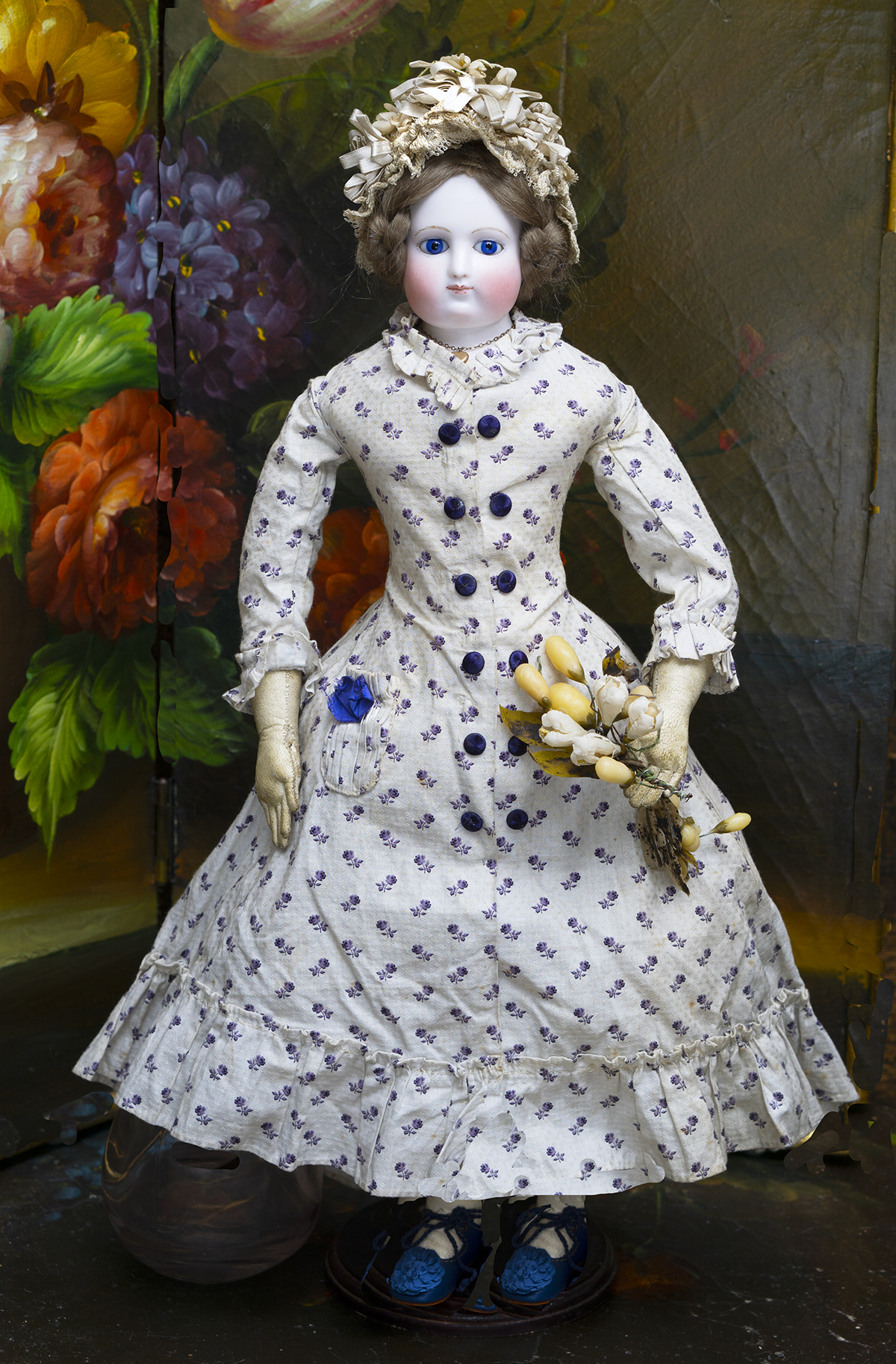 Reserved


Here
you can subscribe to new items of my shop.
© Respectfulbear.com, 2006 - 2023

antique dolls, vintage doll, antique doll clothing, french dolls, german dolls, Jumeau, porcelain dolls, bisque dolls