Bisque swivel head on kid-edged bisque shoulder plate, blue glass enamel inset eyes, painted lashes, feathered brows, accented nostrils and eye corners, closed mouth with center accent line, pierced ears, original blonde mohair wig over cork pate, all-wooden body with dowel-jointing at shoulders, elbows, wrists, hips, knees and ankles, and having extra pivot-jointing at waist and thighs, curled fingers,defined toes.
Rare to find with boutique label,the poupee has near-mint original wooden body with extra articulations,original label,beautiful face with choice bisque.

Condition: generally excellent.
Marked "A La Poupee de Nuremberg...Lavallee-Peronne Paris...(original paper label) and 4 (on the shoulders)
17 1/2" (45cm) tall.

The doll wearing wonderful original silk dotted dress, underwear, leather shoes, straw hat.

The poupee was presented in the prestigious Parisian doll boutique "A La Poupee de Nuremberg" owned by Madame Lavalle-Peronne, described in La Poupee Modele as a "dollmaker of exquisite taste".
Madame Lavallee-Peronne, who presented her doll with the signature name of "Lily" and then, 1863, began the publication of the important doll journal La Poupee Modele in which the doll and, of course, all the things you could buy for the doll, were promoted. In Volume I of La Poupee Modele the doll was described as "our masterpiece, the jewel of our Etrennes with a refined head like the bisque of Sevres, the opulent blonde curls half-hidden by a batiste bonnet that can barely contain them, vibrant sapphire eyes, wild rose tint of complexion".

In utterly-perfect state of preservation, including bisque, body and original wig, the doll is presented with her original clothes and worn wooden box with its original store label (see photo).

Dimensions:

Sold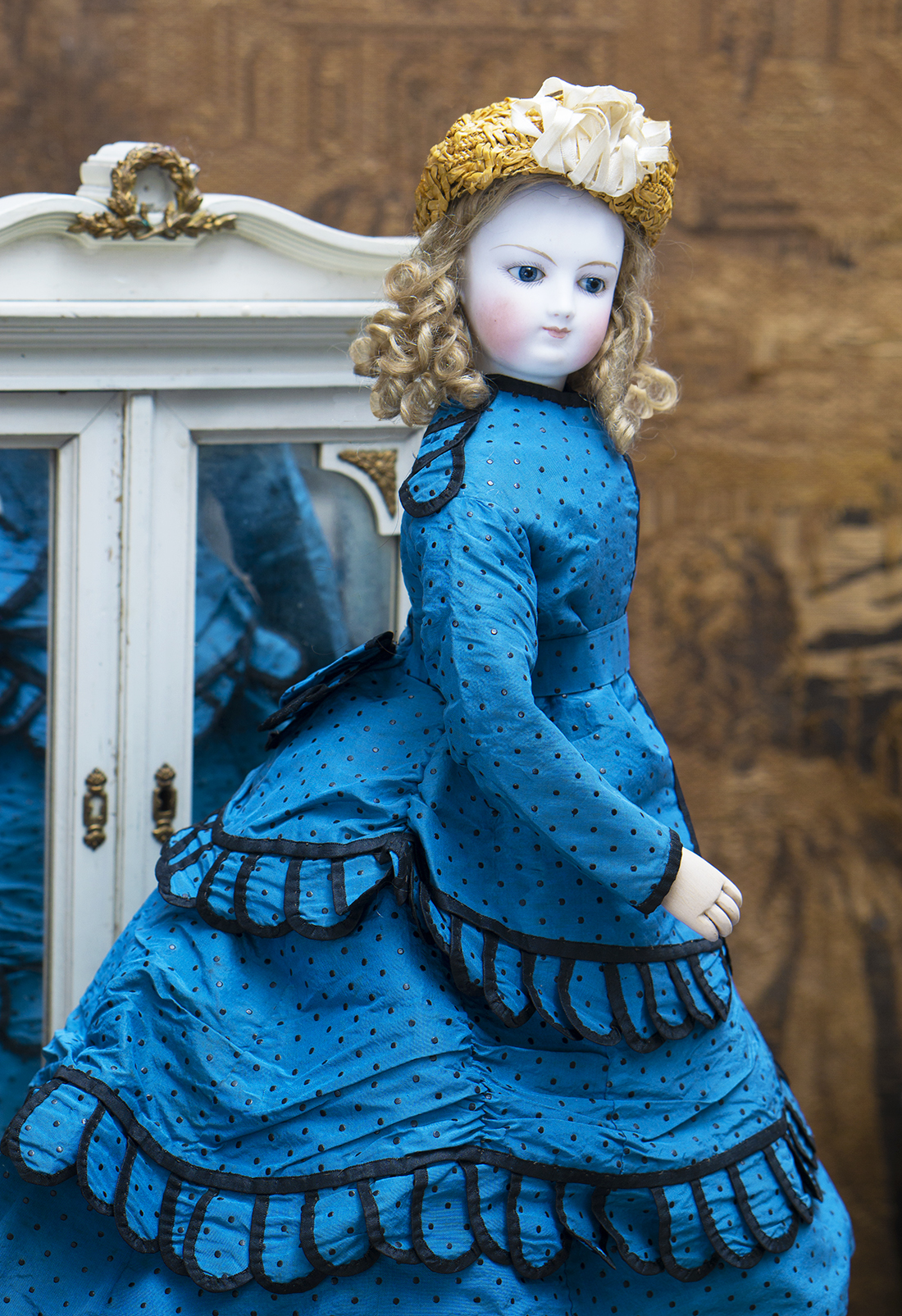 Sold


Here
you can subscribe to new items of my shop.
© Respectfulbear.com, 2006 - 2020

antique dolls, vintage doll, antique doll clothing, french dolls, german dolls, Jumeau, porcelain dolls, bisque dolls