Bisque swivel head on kid-edged bisque shoulderplate, large blue glass paperweight inset eyes with spiral threading, painted curly lashes, brushstroked and feathered brows, accented eye corners, shaded nostrils, closed mouth with shaded and outlined lips, pierced ears, blonde mohair wig over cork pate, French kid fashion body with shapely torso, gusset-jointed elbows, hips and knees, stitched and separated fingers.
Superbly preserved example of the beautiful model, very sturdy body, original elaborate gownm felt hat, undergarments, antique watch, vintage leather boots.

Condition: generally excellent. Her bisque free of hairline, restoration or any damages.

Marks: 9 (head, and red artist checkmarks C XII)
25" (63cm) tall

Jumeau, circa 1878, the model for this poupee face transitioned into the portrait bebe; it appeared as poupee or fashion doll for a short time only. Both the poupee and bebe were shown at the Paris International Exposition of 1878, winning the "Medaille d'Or" award and signifying the firm's transition away from the poupee and toward the bebe.

I DO A LAYAWAY.
Please email me if you have any questions or need more photos.
Thanks for your visit to Respectfulbear doll shop!


Dimensions:

Reserved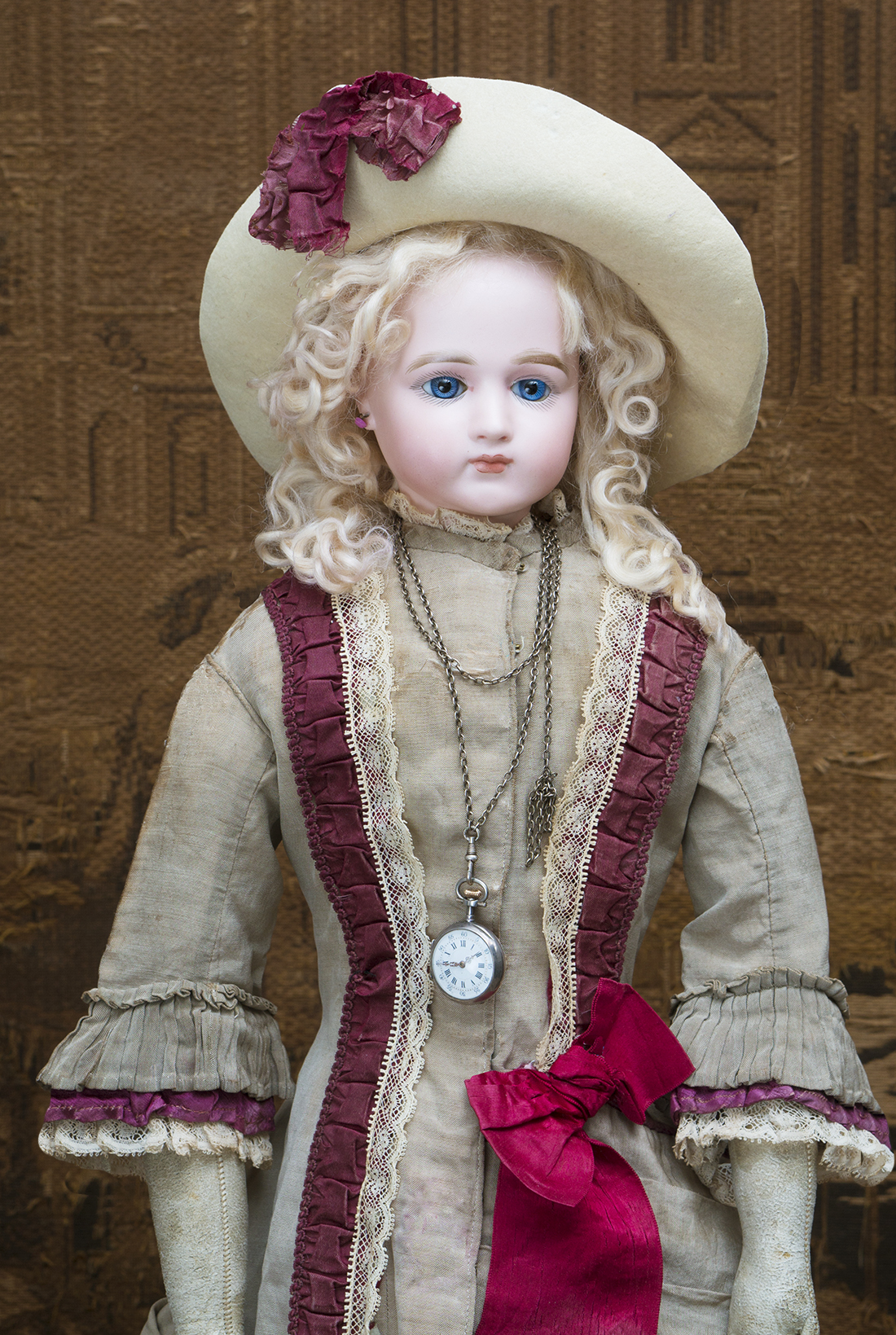 Reserved


Here
you can subscribe to new items of my shop.
© Respectfulbear.com, 2006 - 2020

antique dolls, vintage doll, antique doll clothing, french dolls, german dolls, Jumeau, porcelain dolls, bisque dolls