This sweetheart stands 18" and is a Barrois with the early Bru look. She's lovely and desirable, with bisque swivel head on kid-edged bisque shoulderplate, very delicate pale bisque, blue glass enamel inset eyes, dark eyeliner, painted lashes, feathered arched brows, accented nostrils and eye corners, closed mouth with pale accented lips, pierced ears, ash blonde mohair wig over cork pate, padded stockinette body over metal armature frame designed to allow articulation, bisque lower arms and legs, hands and bare feet.
Sought after poupee model with rare body style, wonderfully detailed bisque limbs including bare feet, antique muslin dress with small roses pattern, antique original cotton petticoa with red embroidered monogramt, vintage leather shoes and socks.

Condition: generally excellent. Marks: 3 (head, shoulders).
Barrois, possibly for Bru, circa 1870.
(Bru worked closely with Barrois, which explains by many early Bru and Barrois faces look related.).
Her bisque free of hairline, restoration, any damages, original body in excellent condition.

18" (46cm) tall
------------------------------------
I DO A LAYAWAY (max. 12 months with monthly payments).
NO ANY SALES TAX!
International shipping cost $70.00.
If you have any questions please email me to respectfulbear@respectfulbear.com.
Thanks for your visit to Respectfulbear doll shop!

Dimensions:

Sold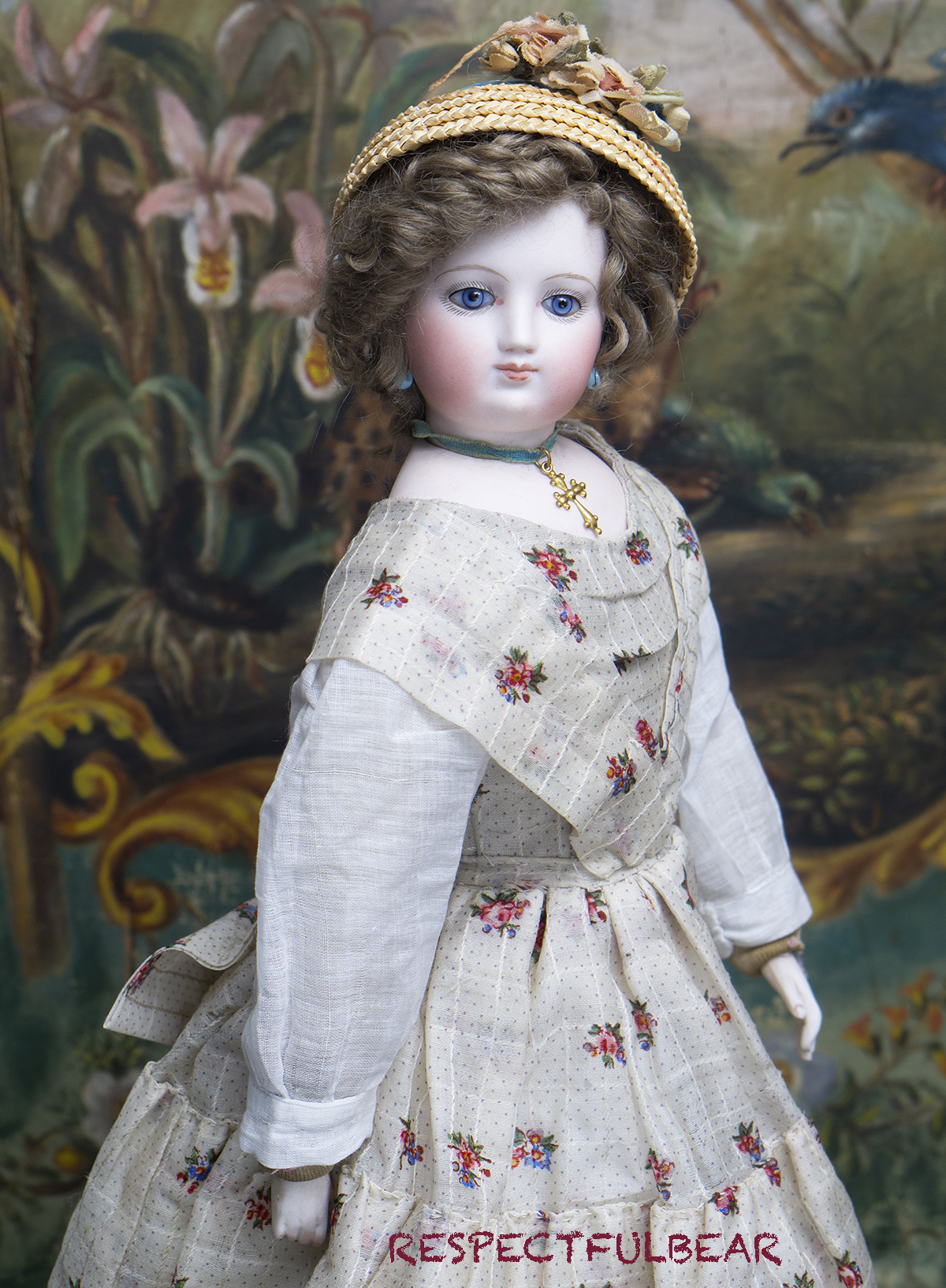 Sold


Here
you can subscribe to new items of my shop.
© Respectfulbear.com, 2006 - 2023

antique dolls, vintage doll, antique doll clothing, french dolls, german dolls, Jumeau, porcelain dolls, bisque dolls