Wonderful original set clothes for fashion doll in original "Au Bon Marche" box with trade card consist of 9 pieces: the chemise, pantaloon, petticoat, pique collar, lace bonnet, blouse, two handkerchiefs, underskirt pockets.
All pieces are hand stitched!!

1/ A very beautiful antique batiste chemise features short sleeves, hook and eye closure. Measures 9 1/2" (24 cm) length, 10" (25 cm) chest.
2/ A very full antique white batiste petticoat with pleats and white cord. Measures 8 1/2" (22 cm) length, the waist adjusting with cord.
3/ Antique white cotton pantaloon closure at the waist with pearl button, measures 6 3/4" (17cm) length, 7" (18 cm) waist.
4/ Antique white lace bonnet decorated with two silk roses and silk bow, measures 2 1/2" (6 cm) wide inside.
5/ The white pique collar closure at the back with pearl buttons, decorated with pink silk bow. Measures 4" (10 cm) wide.
6/ Original white cotton blouse with long sleeves, decorated with red embroidered monogram E.B.
Measures 6 1/2" (16cm) height, 5" (12.5cm) sleeve, 12" (30cm) chest, 4 1/2" (12cm) shoulders.
7/ White cotton handkerchief with white monogram 5 1/2" x 5 1/2" (14x14cm).
8/ Two small pockets 3 1/2" (9cm) height with matching small handkerchief.

The set has french trade card and original presentation box of AI BON MARCHE.
Measures of the box 10 1/2" (27 cm) x 10 1/2" (27 cm) x 2" (5 cm).
The trade card 4 1/2" x 3" (11.5cm x 7.5cm)
Fit for french fashion doll 17-18in tall.

All items in good condition to age

France, Paris, c.1890.

------------------------
I DO A LAYAWAY (max. 3 months for this item)
International shipping cost $45.00
NO ANY SALES TAX!
Please email me if you have any questions or need more photos.
Thanks for your visit to Respectfulbear doll shop.

Dimensions:

Price:
$650.00
If you want to purchase this item, please write me to:

Or
contact me here
.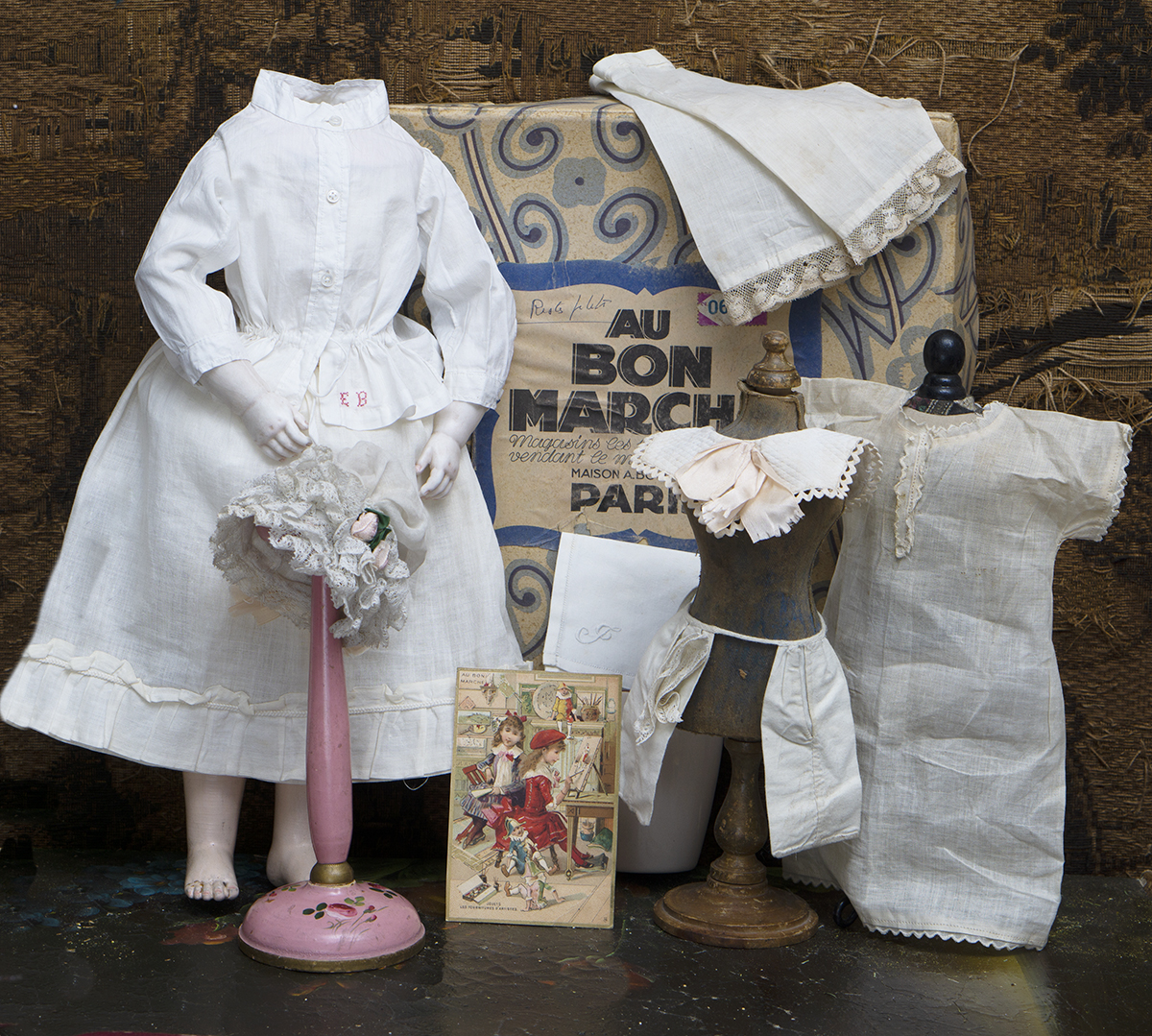 Price:
$650.00
If you want to purchase this item, please write me to:

Or
contact me here
.


Here
you can subscribe to new items of my shop.
© Respectfulbear.com, 2006 - 2023

antique dolls, vintage doll, antique doll clothing, french dolls, german dolls, Jumeau, porcelain dolls, bisque dolls