26" (66 cm.) Very appealing bisque bebe face and presence has bisque socket head, deep blue glass paperweight inset eyes, thick dark eyeliner, painted dark curly lashes, rose blushed eye shadow, brush-stroked and feathered brows, accented nostrils and eye corners, open mouth with outlined lips, row of porcelain teeth, pierced ears, blonde mohair wig over cork pate,French composition and wooden fully-jointed body with phonograph disc system in torso that operates from keywind and lever at the back torso, metal sound plate. Condition: generally excellent, mechanism operates albeit sound is blurred as typically found.
Marks: Depose Tete Jumeau 11 (head) (Lioret signature on the mechanism).
Emile Jumeau, with mechanism of Henri Lioret, circa 1895, the model was introduced as "Bebe Phonographe" and marketed by both Jumeau and Lioret.

An especially pretty model of the musical bebe owns one Jumeau recording , wears original dress , shoes signed Bebe Jumeau 11, undergarments beautiful bonnet,original body and original mechanism.
------
Marks: TETE JUMEAU (faint red stamp) 11
BEBE JUMEAU Bte S.G.D.G. DEPOSE (body)

On the Cylinder:
PHONOGRAPHE HJL Bte S.D.G.D Patent / SYSTEM LIORET

on the rear torso:
JUMEAU / MEDAILLE D'OR / PARIS

CONDITION: Generally excellent. The beautiful head with pale and fine quality bisque, pleasant color, expert painting of delicate features, crisp modeling of gorgeous Jumeau classic face with a slightly smiling expression. Her Original Jumeau body in excellent, original finish condition but the hands with repaint over flaked surface and some areas beginning to flake in typical Jumeau fashion. The Key wind mechanism still can be wound and it activates motion in the works.

Dimensions:

Sold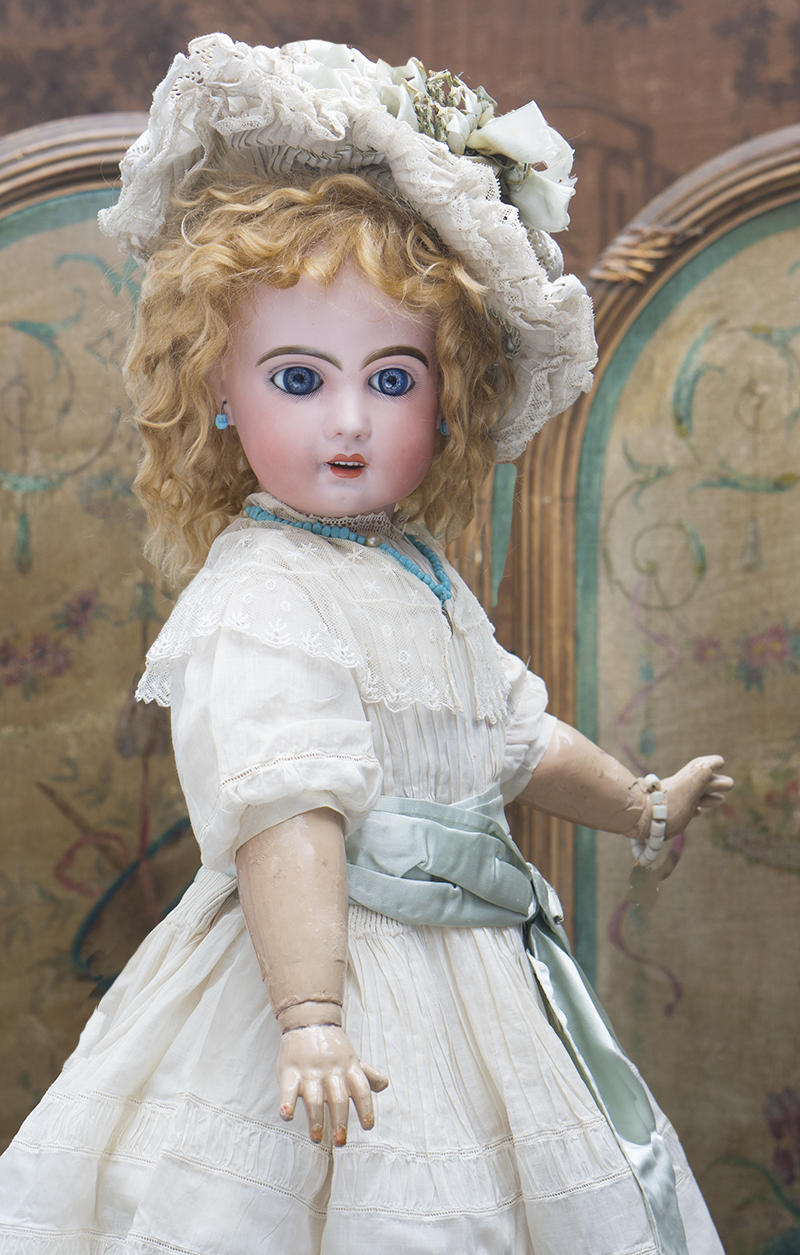 Sold


Here
you can subscribe to new items of my shop.
© Respectfulbear.com, 2006 - 2019

antique dolls, vintage doll, antique doll clothing, french dolls, german dolls, Jumeau, porcelain dolls, bisque dolls