Bisque socket head with very full cheeks, large brown glass paperweight inset eyes, dark eyeliner, painted lashes, mauve-blushed eye shadow, brushstroked and feathered brows, accented nostrils, closed mouth with outlined lips, pierced ears, original mohair wig over cork pate, French composition and wooden fully-jointed body.
Wonderful and rare bebe with distinctive facial modeling enhanced by dramatic large eyes, beautiful complexion and painting; the doll wears fabulous antique dress, undergarments, stockings, ruffled bonnet and vintage leather shoes.
Rare Jumeau model with exceptionally fine detail of sculpting lending a well-defined character expression, original signed head and body, beautiful antique dress.

21" (53 cm.) tall.

Condition: generally excellent, original body finish.
Her bisque free of hairline, restoration, any damages.

Marks: Paris Bebe Tete Depose 9 (head) Paris Bebe depose (and Eiffel Tower symbol) on body.
Emile Jumeau, Paris, circa 1892.
Emile Jumeau, his landmark doll created after winning his infringement lawsuit against Danel et Cie in 1890 which earned him the right to uniquely use the Paris Bebe trade name; to signify that victory; Emile Jumeau commissioned a completely new bebe facial model.



------------------------------------
I DO A LAYAWAY (max. 12 months with monthly payments).
NO ANY SALES TAX!
International shipping cost $70.00.
If you have any questions please email me to respectfulbear@respectfulbear.com.
Thanks for your visit to Respectfulbear doll shop!






Dimensions: 4950

Price:
$3850.00
If you want to purchase this item, please write me to:

Or
contact me here
.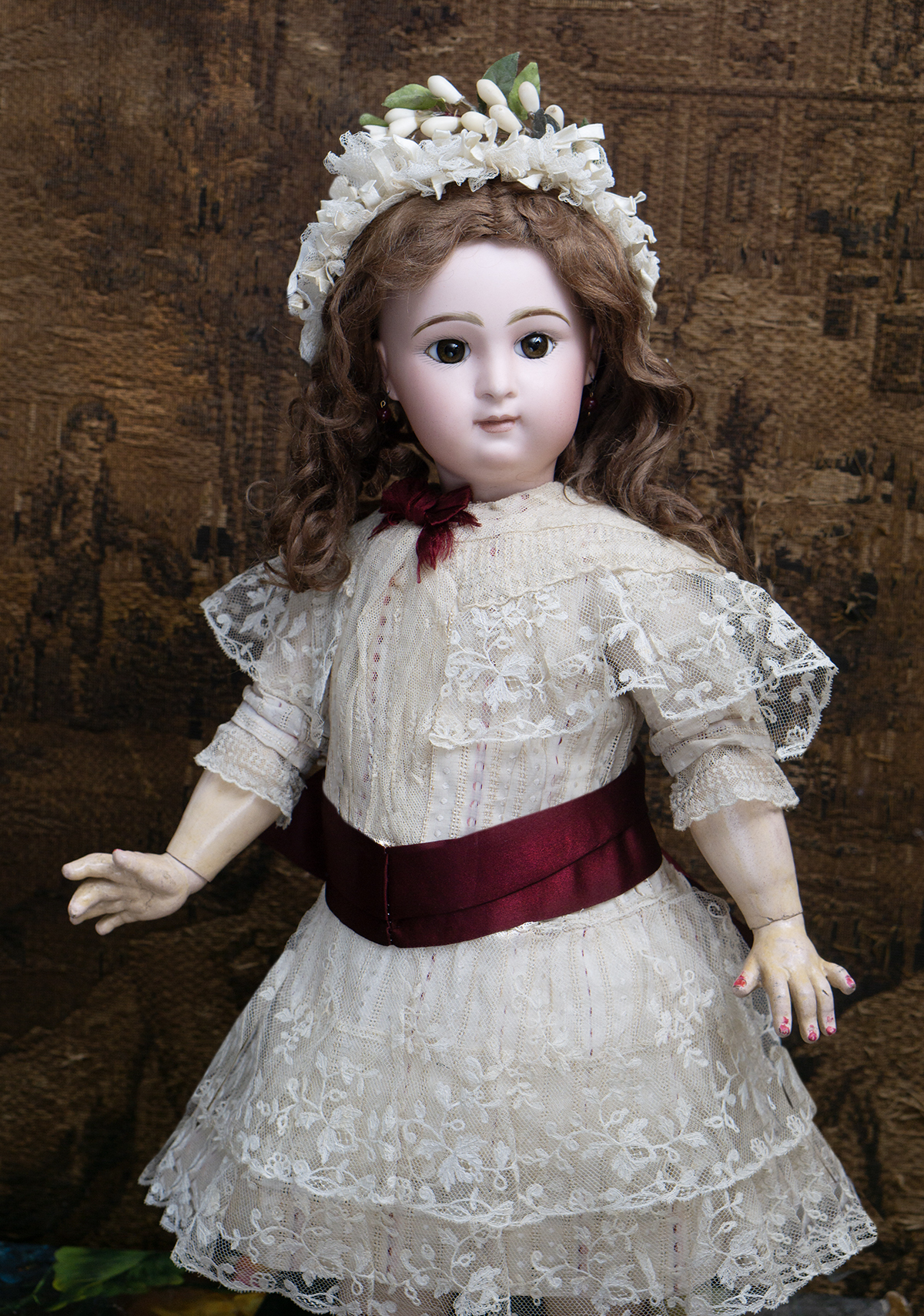 Price:
$3850.00
If you want to purchase this item, please write me to:

Or
contact me here
.


Here
you can subscribe to new items of my shop.
© Respectfulbear.com, 2006 - 2023

antique dolls, vintage doll, antique doll clothing, french dolls, german dolls, Jumeau, porcelain dolls, bisque dolls