Rare heavy cardboard box labeled «Die Kleine Schneiderin» FG.B Puppenmutterchen's Nahschule" (The Little Dressmaker), on the lid opens to reveal a well-fitted interior with 3 sections. The middle section including a small bisque socket head doll Simon & Halbig 1079 with blue sleeping glass eyes, painted facial features, open mouth, four porcelain teeth, original long brown mohair wig, and composition and wooden fully-jointed body. The doll has cotton underwear with red silk ribbons.
Two other sections to box with rolls of various coloured fabrics, buttons, hook and eyes, ribbons, bows and lace, with card layer showing patterns to dress your doll and with sewn on ribbons, cottons, lace and buttons, etc.
Along with two books:
1/«Puppenmutterchen's Nahschule» (The Doll Mother's Sewing Room)  by Agnes Lucas with colored illustration on the cover depicting mother and three little girls sewing costumes for their dolls.
2/«Feuilles de Patrons» by Agnes Lucas and S.Barazetti a folio containing 7 patterns for doll costumes along with a color illustration of each.
The box also includes two little boxes for storing ribbons and trim, and some original fabric pieces.
Condition: generally excellent however box with tatty edges and fragile (please look photo).
The doll 10in (25cm) tall.
Marks: 1078 Simo&Halbig Germany 2
The box 17"x12" (43x31cm).

A fascinating article about the book appears in Cieslik's German Doll Studies,p.54-55. Superb sewing ensemble for little girls, perfectly preserved in good condition to age in its original box.



Dimensions:

Reserved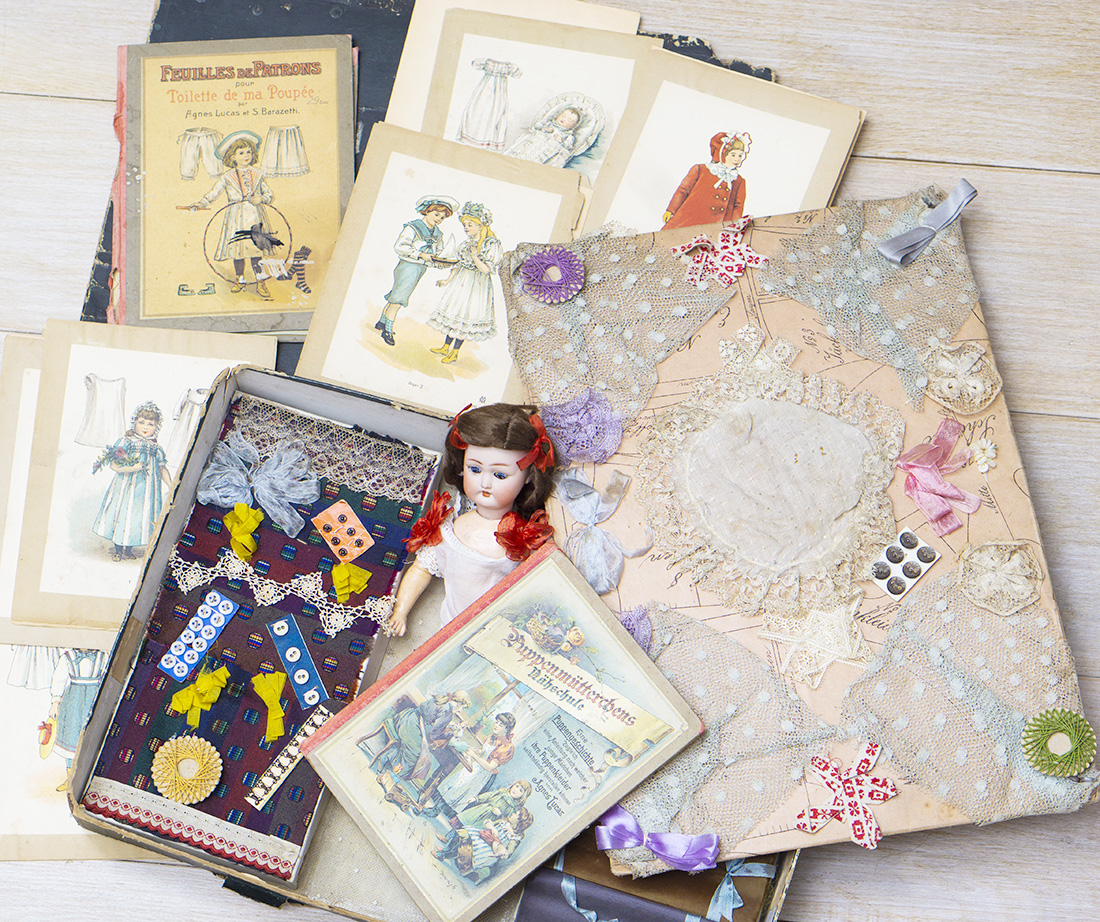 Reserved


Here
you can subscribe to new items of my shop.
© Respectfulbear.com, 2006 - 2021

antique dolls, vintage doll, antique doll clothing, french dolls, german dolls, Jumeau, porcelain dolls, bisque dolls